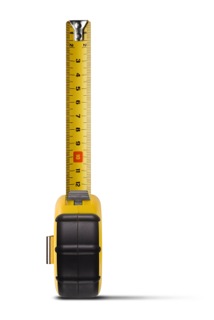 The future belongs to decisive leaders and organizations that can 'measure twice, cut once' by carefully aligning key decisions with core values to gain credibility and assure support from stakeholders.
gain perspective and wisdom from multiple points of view
demonstrate genuine concern for stakeholders
consciously align clearly defined values with action
use straight talk to connect the decision with those that need to hear and understand
---
Keeping the Organization's Promises With Key Decisions    
Designing a Good Decision    
Right vs. Right Decisions
---
Good decisions raise the bar by integrating guiding values when you need to make tough choices. You can improve the quality of your organization's decision making:
Raising the Bar (download .pdf)
Integrity in decision making is fundamentally important and the 'architecture' of decision integrity is essential to understand:
The Architecture of Integrity (download .pdf)
A Field Guide to Good Decisions: Values in Action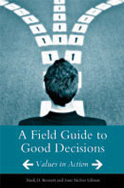 We all face tough choices: business executives, community leaders, and family members all struggle with difficult decisions on a daily basis. What we decide reveals what really matters to us; how we decide determines whether we succeed or fail. Developed over twenty years in settings as diverse as hospital bedsides and corporate boardrooms, "A Field Guide to Good Decisions" provides the skills to make decisions that reflect your core values while respecting those of others, including the long-term implications for all participants.
Illustrated through many real-life examples that will resonate with readers both professionally and personally, "A Field Guide to Good Decisions" offers practical tools and techniques for identifying individual and common goals, reaching consensus, and communicating the results effectively. The authors also show readers how to overcome common obstacles to good decision-making (psychological, cultural, and organizational). Ultimately, this book is about making decisions which, while not always a matter of life or death, nevertheless have a powerful effect on our sense of self, our credibility in the eyes of others, and the lives of those touched by the choices we make.
Martin Rutte, Co-author Chicken Soup for the Soul at Work:

"Years of hands-on experience inform this book. It is immersed in wisdom and rich in practical, workable tools. Buy this book to nourish your own soul and that of others."

Marilyn J. Mason, Ph.D, Psychologist and author of Igniting the Spirit at Work, and 12 Step Wisdom at Work: Transforming Your Life and Your Organization:

"At a time in our history when the word "values" has been widely trivialized, here is a thoughtful, clear, and coherent call to reclaim our personal integrity through an improved set of decision-making skills. Bennett and Gibson are clear-thinking guides able to move us forward in shaping decisions founded on known values, trust, and integrity. This remarkable book is a must read for anyone living in families, organizations, and work places! This is a work of hope!"

Tom Daly, Ph.D, Director of the Living Arts Foundation and Co-creator of the Art of Leadership Training Program:

"Mark Bennett and Gibson take a stand for looking more deeply at essential values and how to make our decisions from an authentic values perspective. This is a thoughtful, powerful, and wonderfully insightful book written by people who clearly have wrestled with difficult real world decisions in a variety of contexts and have come away with deep wisdom and great questions that lead us into moral, ethical, and genuinely values driven decision-making. I look forward to making this wise book recommended reading for my colleagues, clients, students, groups, fellow board members".

Jeff Hood – Adventures in Spirit:

Mark and I have co-facilitated several leadership development seminars. He has an uncanny ability to assess and respond to the needs of a group with a wonderful mix of inspirational story, hands on dialogue, and very practical, results-oriented tools.

Dr. Elizabeth Howze, Chief Sustainable Management Development Program, Centers for Disease Control and Prevention:

"In every instance, participants in our public health global leadership program liked the applied and practical nature of your approach. It was something they felt they could take home and use."